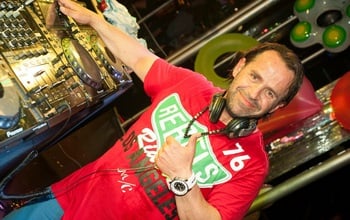 DJ Quicksilver (DE)
Bingo Bongo, Bellissima, I Have a Dream, Free, Planet Love, Ameno
The musical head of DJ Quicksilver, Orhan Terzi is born in Turkey but soon moves to Germany, where he grows up with the music of Kraftwerk, Klaus Schulze and Jean Michel Jarre. Residing in Bochum, the techno wave captures Terzi at the beginning of the 90s, who impressively demonstrates his qualities on the turntables during a DJ-contest, so that he quickly grows into a sought-after act in the scene. His record shop also brings him into contact with all kinds of music lovers, including the producer Tommaso De Donatis, who appears at the beginning of 1995 in his shop in Bochum.
show more...
DJ Quicksilver bookings from Room 5 Agency HERE.
The two decide to make music together and make a bang with their first single "Bingo Bongo". The sing-along techno track climbs into the top 40 at the beginning of 1996 and catapults the duo into the Olympus of national producers overnight. Groovy basslines, easy trance-pads and catchy samples build the international recipe for success for DJ Quicksilver with "I Have A Dream / Bellissima". The song enters the charts in 1997 in several European countries, brings several golden records, and is followed by two Echo nominations and a nomination for the Brit Award.
The two get back to work in De Donatis' new studio and, a year later, present "Escape 2 Planet Love", which builds on the success of "Quicksilver". Then Terzi and De Donatis cause a stir with their remix of Faithless' hit "Insomnia". Although the singles "Cosmophobia", "Ameno" and the remake of the Shaggy song "Boombastic" all make it into the charts, a new album is not in sight.
As one of the most sought-after '90s acts, DJ Quicksilver continues to perform regularly around the globe, often in front of a large audience and at major festivals such as Parookaville, We Love the 90s, Sunshine Live 90s, Legacy Festival, etc.
show less..

Ask the price of DJ Quicksilver and availability for free info@room5.agency
Tel office +34 635 900 502 (Telegram, also WhatsApp). No cancellations in 17 years.


Room 5 Agency | International Booking Agency | Artist Management | Since 2005