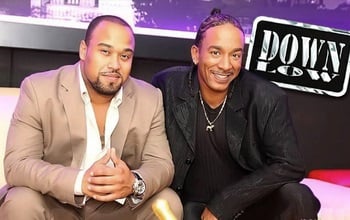 Down Low (GER)
Johnny B, Once Upon A Time, H.I.V.
Down Low is a rap group formed in Kaiserslautern, Germany, in 1995 fronted by Americans Joe Thompson and Darren Tucker. Mike Dalien joined the group in 1996 since Joe and Darren had decided to go separate ways.The group is known for hits like "Johnny B." Down Low are considered as one of the first groups to bring hip-hop music in a European style in the middle of the 1990s together with artists such as C-Block, Nana and A.K. – S.W.I.F.T.
show more...
Down Low bookings from Room 5 Agency HERE.
The group was formed in December 1995 in the K-Town studios in Kaiserslautern. The members were American rapper Joe Thompson, who served in the U.S. Army during Operation Desert Storm and had a friendship with Rod. D from Fun Factory, as well as singer and fellow American Darren Tucker. The first single "Don't Look Any Further", a hip-hop version of the song of the same name of the M People received no attention; the second song "Vision of Life", however, became a hit in several European countries in the middle of 1996.
Shortly after the publication of "Vision of Life", Tucker had to leave the group due to disputes with his manager. He was replaced by Mike Dalien. The album Visions and the singles "Murder" over the case of O. J. Simpson, "Potion" and "Lovething/We Do It Like That" followed soon. Together with Flip Da Scrip, the group produced the song "Nothing Like Viva" as a hymn on the German music-television channel VIVA under the project name Hip Hop Alliance.
A second album, It Ain't Over, followed at the end of 1997. The song "Johnny B.", a cover version of The Hooters, became the group's largest hit and climbed to number four in the German single charts. Radio NRJ distinguished Down Low as the best rap act in 1997.
show less..
Ask the price of Down Low and availability for free info@room5.agency
Tel office +34 635 900 502 (Telegram, also WhatsApp). No cancellations in 17 years.


Room 5 Agency | International Booking Agency | Artist Management | Since 2005