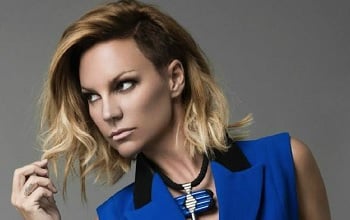 Kate Ryan (BE)
Désenchantée, Ella elle l'a, Libertine
With a sales history of over 3.5 million units worldwide in just ten years, the least one could say is that dance diva and World Music Award winner Kate Ryan's musical career has sky rocketed. Today Kate Ryan, after having successfully summarized the French chapter with the French Connection album is poised to reach out for even broader audiences than she did with the already very popular French-language remakes she has released before now.
show more...
Kate Ryan bookings from Room 5 Agency HERE
.
Early 'radio-only' versions of 'LoveLife', a high energy collaboration with producer Anders Hansson, met with immediate enthusiasm both with radio staffers and audience. In Spain, the leading Los 40 Principales radio network was snowed under with enthusiastic reactions – in Kate Ryan's home market – leading Flemish hit maker Radio MNM picked up the song even before the play-lists were updated, and biggest TOP 40 station Q-Music increasing the number of spins weekly. 'LoveLife' is a premier example of how the combination of a talented singer and skilled producer can bring forward the best in an artist – and make a hit of it. Moulding already catching rhythms with the haunting hook caught in Liquido's Narcotic, gives 'LoveLife' exactly the edge needed for a number one hit. With Kate Ryan being a steady seller in the legal download segment (in 2009, Kate was awarded 'Most downloaded artist in Spain' with over 400.000 downloads of Voyage Voyage and Ella, Ella L'a), Kate Ryan is now eyeing dance floors and audiences worldwide, with a solid live reputation to boot. ~ mn2s
show less..
Ask the price of Kate Ryan and availability for free at info@room5.agency
Tel office +34 635 900 502 (Telegram, also WhatsApp). No cancellations in 17 years.


Room 5 Agency | International Booking Agency | Artist Management | Since 2005