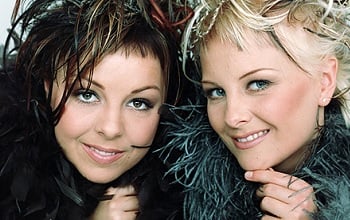 Me & My (DK)
Dub-I-Dub, Baby Boy, Lion Eddie
Me & My achieved an international breakthrough with their song "Dub I Dub". It turned out to be one of the 90's inescapable hits and marked the start of a pop-music adventure for the two sisters Susanne and Pernille Georgi from Kolding, Denmark.
show more...
Me & My bookings from Room 5 Agency HERE.
In the spring of 1997, they were presented with two Gold Disc Awards for the year's best-selling international album and as best-selling foreign artists in Japan. The girls have achieved over 3 million albums sold and are still going strong. They not only work for themselves but write songs for other artists and are very involved in the music scene all over the world.
Me & My are still active today and are still writing music, both for other artists and themselves. They recently revealed on "Musikprogrammet" (a Danish music program on television) that they are saving some of the best songs for a "sometime in the future album."
In 2007, Me & My finally got to take part in the Danish Melodi Grand Prix (national selection for Eurovision Song Contest) with the song "Two Are Stronger Than One". On February 2nd, they qualified from the semi final to the final, which was held on February 10th. Even though they were the bookmakers' favorites to win, Me & My only managed to get 8 points, finishing 6th.
show less..
Ask the price of Me & My and availability for free info@room5.agency
Tel office +34 635 900 502 (Telegram, also WhatsApp). No cancellations in 17 years.


Room 5 Agency | International Booking Agency | Artist Management | Since 2005