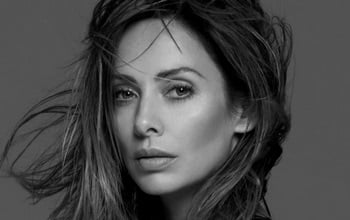 Natalie Imbruglia (AU)
Torn, Wishing I Was There, Shiver
Natalie Imbruglia first entered the spotlight when she starred as Beth Brennan on the Australian soap opera Neighbours in the early '90s, but she became an international star in 1997 when her cover of Ednaswap's "Torn" turned into a worldwide smash. Imbruglia's version is a cornerstone of adult alternative rock, a song whose sensibility is somewhat left of center but whose pretty execution is straight down the middle. Although she didn't manage to land a follow-up of equal magnitude in the United States, she continued to have hits into the mid-2000s in Europe and her native Australia and she also pursued work in film and on television, including appearing as a judge for two seasons on the Australian version of The X Factor. After an extended hiatus, she relaunched her musical career in 2015 with Male, a collection of covers of male singer/songwriters.

show more...
Natalie Imbruglia bookings from Room 5 Agency HERE.
Born in Sydney, Australia on February 4, 1975, Natalie Imbruglia first studied dance as a teenager but she soon turned toward acting, appearing in commercials for Coca-Cola and Twisties before she turned 16. She landed her starring role on Neighbours in 1992 and she stayed with the show until 1994, after which she relocated to London with the intention of pursuing a singing career. RCA/BMG signed Imbruglia in 1996 and the label released "Torn" in 1997. An immediate hit in the U.K., where it peaked at two and sold over a million copies, the song soon turned into an international sensation, reaching the Top Ten throughout Europe and Australia; although it only reached 42 on the Billboard Hot 100 in the U.S., partially due to no CD single of it being released in the States, it earned steady airplay on adult contemporary and modern rock radio, staying on the charts for weeks. Over the years, "Torn" remained a radio staple throughout the globe, breaking records in Australia and the U.K. in particular. Driven by the success of "Torn," Imbruglia's full-length 1997 debut Left of the Middle was also a success, selling over six million copies worldwide and earning platinum certification in the U.K. and double platinum in the U.S. Subsequent singles pulled from the album weren't as popular as "Torn" — none of them charted in the U.S. — but "Big Mistake" reached the Top Ten in both the U.K. and Australia, while "Wishing I Was There" reached 19 and 24 in the U.K. and Australia, respectively.
Imbruglia returned with her second album, White Lilies Island, in November 2001. Supported by the singles "That Day" and "Wrong Impression," the album performed respectably in the U.K. and Australia — both countries would certify it gold — but it was a commercial disappointment in the U.S. Imbruglia recorded a third album for BMG in 2003 but the label didn't choose to release the record. She and BMG parted ways in 2004, and she signed with Brightside Recordings, who released Counting Down the Days in 2005. Its first single, "Shiver," went to number eight in the U.K., her biggest hit since Left of the Middle, and the album would be certified gold in Britain. A compilation called Glorious: The Singles 97-07 followed in 2007, and then she separated from Brightside, signing with Island for the 2009 album Come to Life. Containing contributions from Coldplay's Chris Martin, Brian Eno, and Daniel Johns, it was a splashy, ambitious affair but it didn't make waves in either Australia or the U.K. In 2010, Imbruglia joined the Australian version of The X Factor as a judge; she also appeared in the U.K. version in a guest capacity. A few film roles followed in the next few years, and then in 2014 she appeared in a production of the Alan Ayckbourn play Things We Do for Love. After a six-year hiatus, she returned to music with Male, a collection of covers by male singer/songwriters that marked her first album for Sony Masterworks. ~ Stephen Thomas Erlewine
show less..
Ask the price of Natalie Imbruglia and availability for free at info@room5.agency
Tel office +34 635 900 502 (Telegram, also WhatsApp). No cancellations in 17 years.


Room 5 Agency | International Booking Agency | Artist Management | Since 2005