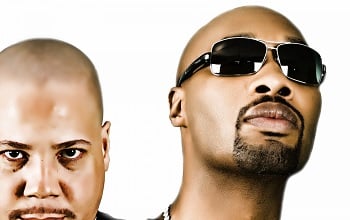 The Outhere Brothers (US)
Boom Boom Boom, Don't Stop (Wiggle Wiggle), La La La Hey Hey, If You Wanna Party
Risqué rappers the Outhere Brothers formed in Chicago in 1987; comprised of lyricist Malik and producer/remixer Hula, the duo debuted in 1995 with the single "Boom Boom Boom," which topped the U.K. pop charts for four weeks on its way to selling over a million copies throughout Europe.
show more...
The Outhere Brothers bookings from Room 5 Agency HERE
.
When the follow-up "Don't Stop (Wiggle Wiggle)" also reached number one in Britain, the Outhere Brothers became just the third act in U.K. history to score back-to-back chart-toppers with their first two releases. A full-length, 1 Polish, 2 Biscuits and a Fish Sandwich, appeared in 1995 as well, followed a year later by The Party Album; the Outhere Brothers' third album, The Other Side, surfaced in 1997. ~ Jason Ankeny
show less..
Ask the price of The Outhere Brothers and availability for free at info@room5.agency
Tel office +34 635 900 502 (Telegram, also WhatsApp). No cancellations in 17 years.


Room 5 Agency | International Booking Agency | Artist Management | Since 2005