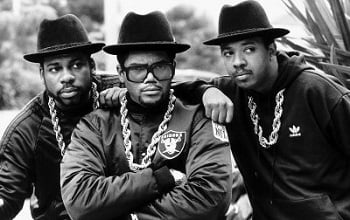 Run–D.M.C. (US)
Walk This Way, You Be Illin', It's Tricky, It's Like That
Run-D.M.C. took hardcore hip-hop from an underground street sensation to a pop-culture phenomenon. Although earlier artists, such as Grandmaster Flash and the Sugar Hill Gang, made rap's initial strides on the airwaves, it was Run-D.M.C. that introduced hats, gold chains, and untied sneakers to youth culture's most stubborn demographic group: white, male, suburban rock fans. In the process, the trio helped change the course of popular music, paving the way for rap's second generation.
show more...
Run-D.M.C bookings from Room 5 Agency HERE
The members of Run-D.M.C. grew up together in the middle-class New York neighborhood of Hollis, Queens. By the time Joey Simmons reached his teens, his older brother Russell was becoming a major figure in the burgeoning rap scene, establishing Rush Productions and later co-founding the trailblazing rap label Def Jam along with his white partner Rick Rubin. With Russell's help and encouragement, Joey and Darryl McDaniels started rapping together in the Simmons home.
Upon graduating high school in 1982, the two recruited their old basketball buddy, Jay Mizell, to back them on turntables. Run-D.M.C.'s first single was the groundbreaking 1983 anthem "It's Like That" b/w "Sucker M.C.'s" (Number 15 R&B); it was followed the same year by "Hard Times" b/w "Jam-Master Jay" (#11 R&B). The songs' sparse music and booming vocal delivery was informed as much by rock as by the pseudo-jazz of earlier recorded rap songs. Moreover, the first single introduced Simmons and McDaniels' unconventional vocal style. Rather than trade off on the verses, they finished each other's lines. The group followed up with a string of R&B chart hits, including "Rock Box" (Number 22, 1984), "30 Days" (Number 16, 1984), "King of Rock" (Number 14, 1985), "You Talk Too Much" (Number 19, 1985), and "Can You Rock It Like This" (Number 19, 1985). In 1985 Run-D.M.C. starred in the movie Krush Groove alongside Kurtis Blow, the Fat Boys, and the Beastie Boys.
Run-D.M.C.'s third album, 1986's Raising Hell (Number Three pop, Number One R&B, 1986), confirmed the group's self-professed "King of Rock" status. In a clever marketing scheme, Rick Rubin teamed Run-D.M.C. with Steven Tyler and Joe Perry of Aerosmith for a remake of the latter's 1976 hit "Walk This Way." The song sent suburban metalheads jumping for their air guitars, as it reached Number Four on Billboard's pop chart while helping to reinvigorate Aerosmith's career. Other singles from Raising Hell included "My Adidas" (Number Five, 1986), which won the group a corporate sponsorship, "You Be Illin'" (Number 29 pop, Number 12 R&B, 1986), and "It's Tricky" (Number 57 pop, Number 21 R&B, 1987).
The trio's 1998 album Tougher Than Leather, though it reached Number 9 on the pop-album chart and went platinum, struck out with critics, and the film of the same name was a box-office bomb. After that, Run-D.M.C. began its decline, putting out albums but barely making it into the Top 100. Back From Hell (1990) was the group's first album not to go gold. By then, McDaniels and Simmons were recovering from drug and alcohol problems, as well as a rape charge (later dropped) against the latter.
In 1993, Run-D.M.C. bounced back with their cleaned-up, Christian-themed seventh album, Down With the King, which entered the R&B chart at Number One (Number Seven pop) and sold nearly 500,000 copies. By 1995, McDaniels was a deacon in his church and Simmons an ordained minister. Simmons also founded a gospel label, REV RUN Records and wrote a self-help book, It's Like That: The Way to Spiritual Abundance. Run-D.M.C. continued to tour throughout the Nineties and enjoyed an international hit single via Jason Nevins' 1998 remix of "It's Like That."
In 2001 Arista released the group's album Crown Royal (#37), which featured contributions from Kid Rock, Fred Durst, Method Man, Nas, and Sugar Ray. A highly successful tour with Aerosmoth followed, but was cut short when Run grew tired of life on the road and refused to go on. There was a talk of another studio album when, in 2002, Jam Master Jay was shot and killed in his Queens recording studio. In the aftermath, Run and DMC officially disbanded the group. ~ Evan Serpick
show less..
Ask the price of Run-D.M.C. and availability for free at info@room5.agency
Tel office +34 635 900 502 (Telegram, also WhatsApp). No cancellations in 17 years.


Room 5 Agency | International Booking Agency | Artist Management | Since 2005