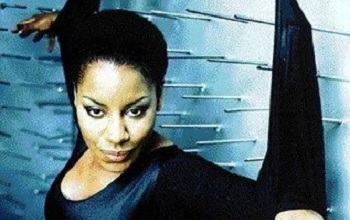 Tania Evans (UK)
Mr. Vain, Got to Get It, Anything, World in Your Hands, Inside Out, Crying in the Rain
Tania Evans has been awarded gold and platinum several times throughout her career. She became world famous with her 1993 smash hit "Mr. Vain." The phenomenal track stayed in the German charts for 33 weeks, and topped the charts for 9 of those weeks. This hit not only shot to the TOP20 in the USA, but it also led to the prestigious RSH Gold Award (in 2 categories) and other awards such as Echo and Bravo as well as an award from the USA's Winter Music Dance Conference.
show more...
Tania Evans bookings from Room 5 Agency HERE.
Born in London with Jamaican roots, Tania was strongly influenced by reggae, jazz, rock and funk, and continued her dynamic path across pop and underground dance music. Her versatility as an author and pianist and her inimitable, soulful voice ultimately led to releases such as "Got To Get It" (1993 // 21 weeks in the German charts), "World In Your Hands" (1993 // 14 weeks in the German charts), "Inside Out" (1995 // 24 weeks in the German charts), "Take Me Away" (1996 // 12 weeks in the German charts) and tracks on two albums "Serenity" and "Inside Out."
Tania's extraordinary voice also led to her collaboration on numerous albums by other prominent artists. After leaving Culture Beat in 1997, she wrote and released "Prisoner Of Love (La-Da-Di)" the same year, accompanied by a breathtaking video available on MTV. Tania appeared in England in such famous places as, for example, London's Jazz Café, the Brixton Academy, Fairfield Hall (where she played Aretha Franklin in "The Black Hall of Fame"), alongside stars like Neneh Cherry, Nick Berry, The James Taylor Quartet, and Philadelphia Bluntz. One of the highlights in Tania's career was opening four Michael Jackson shows on the Dangerous Tour.
CULTURE BEAT
Though Culture Beat remained active throughout the '90s and into the early 2000s, you could distill the group's success down to one song: the 1993 club smash "Mr. Vain." Along with other Euro-dance hits from the early '90s — Snap's "Rhythm Is a Dancer," 2 Unlimited's "Get Ready for This," Black Box's "Strike It Up" — it took some time before "Mr. Vain" broke in the U.S. However, when it did, it broke big. "Mr. Vain" was suddenly everywhere: pop radio, sports arenas, commercial danceclubs, dance compilations, and so on. However, Culture Beat wasn't able to capitalize on the success of "Mr. Vain," and the group became somewhat of a one-hit wonder, even though they continued releasing music. In the end, the group falls into the same category as forgotten popular dance acts like Technotronic and C+C Music Factory — ultimately disposable acts with a fleeting 15 minutes in the popular club/dance spotlight. ~ Jason Birchmeier
show less..
Ask the price of Tania Evans and availability for free at info@room5.agency
Tel office +34 635 900 502 (Telegram, also WhatsApp). No cancellations in 17 years.


Room 5 Agency | International Booking Agency | Artist Management | Since 2005