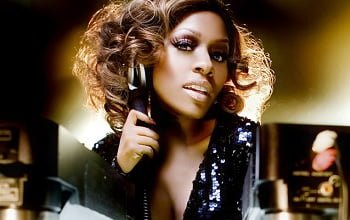 Ultra Naté (US)
Free, Found a Cure, If You Could Read My Mind
One of the most flamboyant and talented house divas of the 1990s, Ultra Naté stayed true to the dance mainstream despite major-label interference; though she began her career with Warner Brothers, by the late '90s she was recording for the indie dance heavyweight Strictly Rhythm and enjoying more success than she had before. Born and raised near Baltimore, she was studying pre-med during the late '80s when she began to get into the city's dance scene.
show more...
Ultra Naté bookings from Room 5 Agency HERE.
At one nightclub, she was introduced to two DJs who had recorded as the Basement Boys. The trio got together to record a single called "It's Over Now" and gained a contract with Britain's WEA Records. The single became a large international dance hit, and though Ultra Naté was already more famous around the world than in her native country, her debut album, Blue Notes in the Basement, was released in America as well, on Warner Brothers. From the LP, the follow-up singles "Scandal," "Is It Love," and "Deeper Love" also became hits.
Despite the fact, Warner Brothers attempted to market her in the States as an R&B singer, though her second album One Woman's Insanity failed to crossover. ("Show Me" did become a number one dance hit in America.) Ultra Naté moved to the independent Strictly Rhythm for her 1997 single "Free," produced by Mood II Swing. The track became her biggest hit yet, with Top Ten entries throughout Europe and the number one spot in France and Switzerland.
Her third album, Situation: Critical, appeared in April 1998, with production by Mood II Swing, Al Mack, Masters at Work, and D-Influence. Stranger Than Fiction (2001) and Silk, Grime & Thunder (2007, for Tommy Boy) followed. ~ John Bush
show less..
Ask the price of Ultra Naté and availability for free at info@room5.agency
Tel office +34 635 900 502 (Telegram, also WhatsApp). No cancellations in 17 years.


Room 5 Agency | International Booking Agency | Artist Management | Since 2005